True to her roots in menswear, Catherine's fine jewelry collection is as beautiful as it is wearable.
Zadeh is luxury jewelry for the aesthetes of the world who have an appreciation for the unexpected and the original.

In a sea of sameness, Zadeh evokes a carefree nonchalance, a fluidity between formal and casual, masculine and feminine.

Ethical in our production processes, we source sturdy and renewable materials to create refined and sophisticated designs that fit seamlessly into the active lifestyle of the modern woman.
Unorthodox pairing of precious metals with exotic yet sustainable materials, are reinvented in luxurious and unexpected ways elevating our jewelry into wearable art.
Fearless, effortless and distinct, Zadeh is jewelry you live in.
Inspired by her Persian roots and Parisian upbringing, the jewelry is timeless, refreshing and boldly authentic.
Your personal style stays with you, always.
Go-to jeans, a fresh linen shirt, the scarf that's become your signature. Your confidence and effortlessness go where you go.
So does Zadeh.
From beach to black tie, Zadeh's bold, timeless jewelry is the wear-everywhere expression of who you are. 
You never stop being you. Zadeh never stops being your style.
Catherine's intention has always been to create timeless pieces with quality craftsmanship to make your style effortless for a lifetime.
A Zadeh woman is an independent thinker who craves the cleaner, effortless, no frill aesthetic typically associated with menswear.
Zadeh is the jewelry you never take off.
Every Zadeh piece can be worn anywhere—the natural elements we choose actually improve with time.
From beach to black tie, every bold, unique piece is highly wearable, and stackable. We all crave jewelry that can become our signature—you just found it.
Precious jewelry that is not precious.

Jewelry that you live in.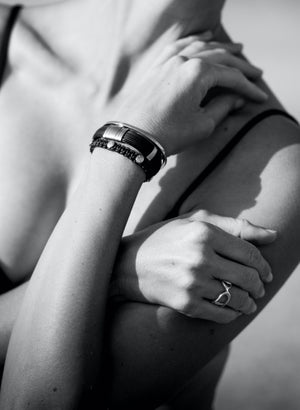 Brant 18K Gold
Brant 18K Gold
The Brant buffalo horn bracelet is made of horn fibers. Each strand is hand sliced to mimic the look of elephant hair.
Intricately pieced together, the fibers are then molded into the shape of a wrist.
Featuring an 18k yellow gold clasp and accents, it is masculine, strong, effortless.
The creation of a buffalo horn bracelet takes a full week, from start to finish.

Paired with the Malo cuff and the Mateo, this stack is ideal for a distinct, sporty and casual look.


Please note: The horn comes from Asian water buffalo that are sustainably farmed and raised for consumption. The horn is collected and repurposed, eliminating waste.


Photography: Lucio Landa
Our most loved and most wearable styles, going wherever life—and your schedule—take you.
Each piece transitions seamlessly from casual wear during the day to formal wear at night.
Simplicity. Elegance. Wearability.
Coco Pendant
The Coco is made of a round buffalo horn pendant encrusted with an 18 karat pink gold pyramid.
Complementing the Coco pendant is our signature waterproof parachute cord. You can swim, exercise and shower with the Coco pendant, without damaging the cord nor the pendant.
Simplicity. Elegance. Wearability, the Coco is your new wardrobe staple. Wear this chic and modern piece with jeans or your best little black dress.
Hand made in our New York studio.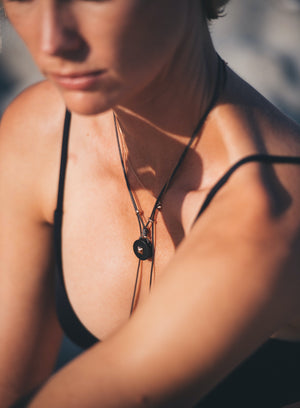 Coco Pendant
Our brand is family, and now, so are you.
The Journal
Inspiration, and exploration. Connect with who we are at Zadeh through our stories, blog posts, style guides, and more. We write for you.