Jewelry for the man

who doesn't wear jewelry.
We design for the modern and confident gentleman with a European sensibility.
We know what he wants...
He usually doesn't wear jewelry, except a beautiful watch.
We've grown with him and we know where he's going.
Worldly, well-read, cultured and traveled, he appreciates art and luxury, and doesn't follow trends.
He is sophisticated, with a strong penchant towards unique design and personal touches.
Quality and provenance are important to him.
We understand his concerns and his aspirations, and we're constantly listening to him as he evolves.
.
My husband David is my muse. I always design with him in mind. Discreet, elegant and refined, he is the epitome of the Zadeh man.
For most men, wearing jewelry is intimidating. The first time I suggested to David to wear a bracelet, he was adamant:
-
" No way, this is not who I am."
-
Indeed, until few years ago, most men were uncomfortable donning jewelry. Unless one was into heavy chains or leather, there was nothing designed for the understated and discreet man, the one who barely wears a ring or a watch.
-
A ring was the only accessory David contemplated and for a good reason: we were getting married! I designed our matching wedding bands, with barely any details in yellow gold. A year later, his ring felt "too tight". What he meant was " I really don't like wearing jewelry". He removed it and has not been wearing it ever since.
"He loved the look of it: masculine, distinct yet discreet. A conversation piece. He was hooked..."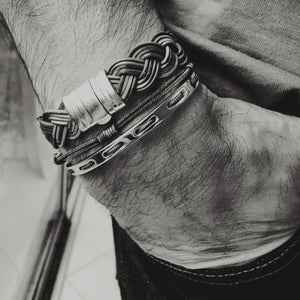 The Brant
The Brant
Few years later, running into a Parisian friend, his elephant hair bracelet piqued his interest. "I would wear this" he mused.
That encounter inadvertently launched the Brant collection.
Elephant being an endangered species, we substituted the elephant hair with Asian water buffalo horn, a sustainable and organic material.
The horn is hand sliced into fibers, braided and intricately pieced together, then molded into the shape of a wrist and set into an 18kt gold clasp.
The Brant collection was born.
Buffalo horn, a signature ZADEH material, has a naturally worn look to it. During the fabrication, we apply an oil to soften the horn and give it a rich black luster.
With time and through showering, swimming, etc, the oil wears off and the horn slowly recaptures its original gray patina.
If you try out a bracelet for the first time, start with our signature Cayenne cord bracelet.
And then you can stack them.
In order to be comfortable wearing jewelry, you need to be comfortable with being who you are.
Think of jewelry as a way to express yourself, as a way to stand out in an artistic way.
Our jewelry is an accent, designed to enhance your unique personality. Jewelry should not define you nor overwhelm you.
A distinct stack, made of a simple cord bracelet paired with a sterling silver cuff or a stronger piece such as the buffalo horn bracelet tells your story, how you feel and who you are.
.
.
With jeans and a t-shirt or even with a well tailored suit, your ZADEH jewelry is implicitly a reflection of your values and what you stand for.
Exercise, shower, swim...you never have to take them off!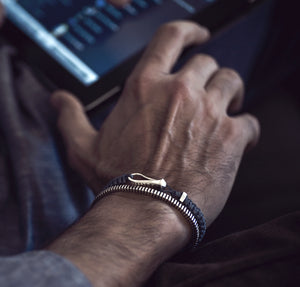 Clou & Pegasus
Clou & Pegasus
.
Sport our jewelry without looking wild.
.
The Clou macrame bracelet paired with the ribbed Pegasus gives you a classic, timeless look without being overwhelming.
Combining our sustainable and waterproof parachute cord with solid precious metal such as sterling silver or gold, elevates your look.
.
They are easy, versatile finishing touches to your wardrobe, accents that make you stand out.
Pegasus
With khaki's and a T-shirt, a ZADEH cuff is a refined accent to reflect your personality.
Our designs are unexpected, original, strong, masculine and timeless. Combine a simple cuff with other bracelets that have different textures, be it buffalo horn, parachute cord or leather.
Ethical in our production processes, we source sturdy and renewable materials to stand up to our clients active lifestyle.
Unique blend of unfussy materials and precious metals yields a cool blurring of formal and casual, classic and modern.
You recognize a ZADEH piece when you see one. It is distinct in its own right.
.
Stitch
Hugo
Malo
Pegasus
Whatever you choose, a ZADEH bracelet will never fail you. You will wear it with ease and confidence.
Sustainably sourced materials: parachute cord, Asian water buffalo horn, vegetable ivory mixed with precious metals.
Your jewelry is a statement, an affirmation of who you are.
The Journal
Inspiration, and exploration. Connect with who we are at Zadeh through our stories, blog posts, style guides, and more. We write for you.